What's Happening in Westerville? …
On Friday, June 15, 2018 – The issue is whether or not you like "The American Issue" statue to be unveiled Friday night in front of city hall. Your opinion is important but not as important as the free root beer floats provided during the ceremonies. Come early and bring along the $2 bag of books you selected at the library used book sale. It would be great if your selection included books on art criticism and selected readings on prohibition. 
Join us as we unveil a new piece of public art in the City Hall Courtyard this Friday night. The American Issue sculpture recognizes #Westerville's role in the passage (and later repeal) of the 18th…
Every Friday, take home a bag of used items for just $2.00! Sale includes used books, movies & other items from the Friends of the Westerville Public Library shelves in the mallway. Pay at the Front Desk. (Note: $2.00 per bag plus sales tax.)
Enjoy the groovy colors we create as we Tie Dye the morning away. Bring a shirt to Tie Dye.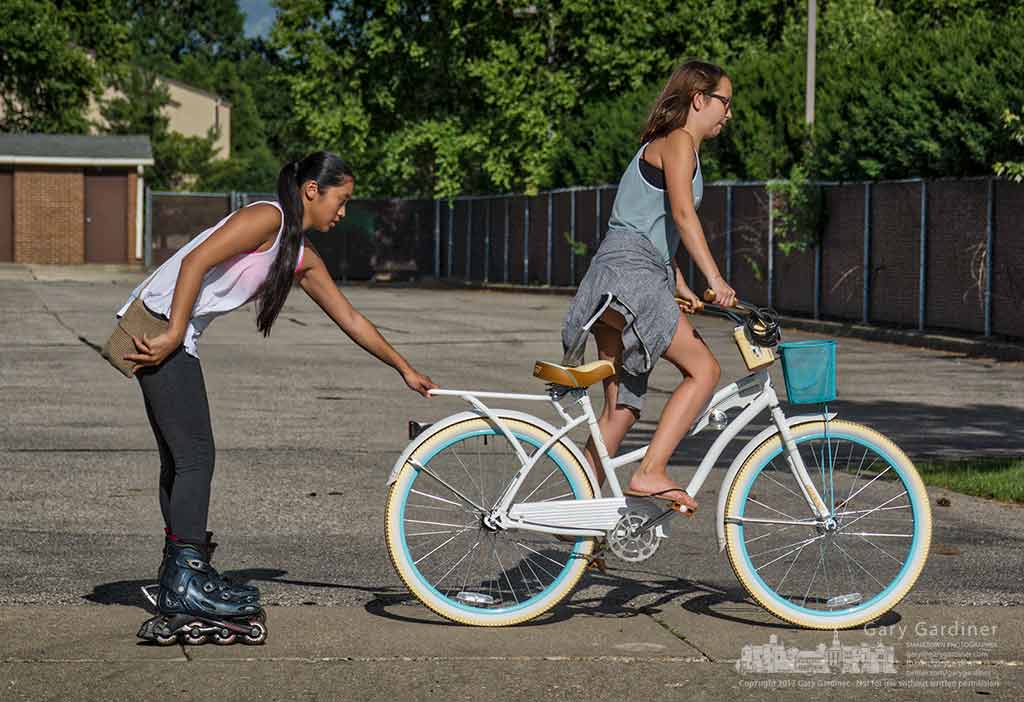 A young skater gets an assist from a friend with a bike as they travel home late in the afternoon Thursday in Westerville, Ohio. My Final Photo for June 15, 2017.
Photoshelter is home to SmallTown Stock, Ohio Stock Photos, westervilleOH.IO, and the archive for Gary Gardiner's photos.
Siteground is the hosting company used by westervilleOH.IO. Its customer service is excellent as is its reliability and cost. 
Luminar 2018 is an inexpensive alternative to Photoshop and Lightroom. It is also far less difficult to create what your eyes saw and less complex than both Adobe products.
Add an event
If you are aware of an event in Westerville and think it might be important to others please use the contact form.
We need your name and email address in order to verify the information or learn a little more about the event, if necessary.
The email address will not be shared and you won't be signing up for any newsletters. It's just in case westervilleOH.IO needs to make contact.
Thank you.