What Would Westerville Do? …
On Wednesday, June 13, 2018 – Beekeeping for kids sounds a little risky but there's no risk in taking your kids to the library to learn about an essential aspect of nature. There may be greater risk in taking them to the courtyard in front of city hall where Westerville Parks and Recreation begins installing "The American Issue," a statue representing the divisions brought about by Prohibition. Explaining that is absolutely more dangerous than the sting of a bee. Better yet, take them to the Community Center Wednesday night for the second discussion about converting the McVay home property into a new city park. It is probably more soothing to visit the Wednesday Farmers Market where strawberries and maple syrup are plentiful, No explanation needed.
Wednesday Market
It'll be business as usual at the Wednesday Uptown Farmers Market.
That means more strawberries, maybe an early tomato or two, perhaps squash, and definitely Ohio-raised Tilapia, maple syrup, and a side of beef or pork.
Begins at 3:00 p.m. and ends at 6: p.m.
In the parking lot across from Church of the Messiah on North State.
Hempstead Road Park Meeting
Westerville Parks and Recreation has a public meeting on Wednesday, June 13 at 7 p.m. to discuss the vision and guiding principles for the park project at 480 S. Hempstead Rd.
Staff will share imagery from parks around the country.
This meeting will be held at the Westerville Community Center in Maple Room C.
Explore the fascinating life of bees and the beekeepers that harvest their honey. View the inner parts of a hive and learn about the intricate life cycle and habits of the queen as you fall in love with the source of all that sweetness – the gentle honey bee.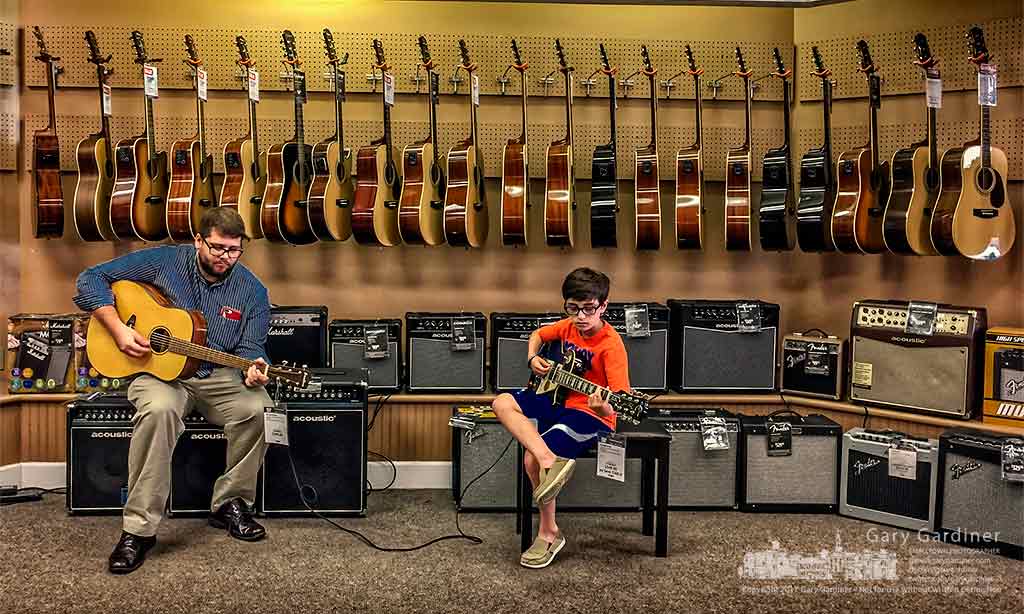 A youngster on an electric guitar and a salesman on an acoustic guitar play at the same time while the young player's mother decides how best to handle an upcoming birthday gift purchase. My Final Photo for June 13, 2017.
Photoshelter is home to SmallTown Stock, Ohio Stock Photos, westervilleOH.IO, and the archive for Gary Gardiner's photos.
Siteground is the hosting company used by westervilleOH.IO. Its customer service is excellent as is its reliability and cost. 
Luminar 2018 is an inexpensive alternative to Photoshop and Lightroom. It is also far less difficult to create what your eyes saw and less complex than both Adobe products.
Add an event
If you are aware of an event in Westerville and think it might be important to others please use the contact form.
We need your name and email address in order to verify the information or learn a little more about the event, if necessary.
The email address will not be shared and you won't be signing up for any newsletters. It's just in case westervilleOH.IO needs to make contact.
Thank you.