Barbara J. Adams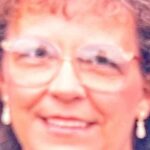 Barbara J. Adams, 76, died on August 16, 2023, at Our Home-New Albany. She was born on March 13, 1947, in Van Wert, Ohio. She married Gregg Adams and had two children: Dirk (Suzi) Adams and Stephanie (Shawn) Ward.
She was a patient care tech at Van Wert County Hospital before retiring. Barbara was an animal lover and enjoyed spending time with her family and friends, especially her grandchildren: Chandler (Alyx) Adams, Meredith Adams, Katie Ward, Emily Ward, and Claire Ward.
Her parents, a son, Brent B. Adams, and two sisters, Betty (Don-deceased) Schaadt and Joanne (Jake) Baer, preceded her in death. Graveside services were held on August 21, 2023, at Woodland Cemetery in Van Wert.
Visitation was held on the same day at the funeral home from 11 a.m. to 1 p.m. In lieu of flowers, memorial contributions in Barbara's memory may be sent to the Van Wert County Humane Society or to Ohio Fuzzy Pawz Shih Tzu Rescue.
Arrangements have been entrusted to Alspach-Gearhart Funeral Home & Crematory in Van Wert, OH.