Jake Cook, Westerville North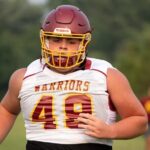 Westerville North's Jake Cook is listed in The Columbus Dispatch's 12 Columbus-area high school football offensive linemen to watch this fall.
Jake Cook, standing at an impressive 6 feet 5 inches and weighing 295 pounds, is a force to be reckoned with on the field. He plays a crucial role in the team as the anchor of the Westerville North offensive line and is expected to lead the team under the guidance of their first-year coach, Stanley Jackson Sr.
Last season, Cook's hard work and dedication paid off as he was recognized as second-team all-district and honorable mention all-state in Division I. These honors reflect not only his remarkable skills but also his invaluable contribution to the team's success. In addition, he has also been listed as a three-star recruit by 247Sports, which is a well-known sports media company that provides recruiting information and analysis.
Cook'simpressive physical attributes, talent, and dedication, he is sure to continue making significant contributions to his team's success both on and off the field.
Westerville North High School Football Schedule for 1023-2024 season. First game is August 18 against Westerville Central. Played at Westerville North.