N. Geylean Daniel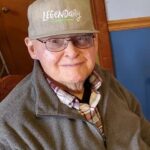 N. Geylean Daniel passed away peacefully on July 27, 2023, at the age of 96. He was a family man with a deep love for the great outdoors, sports, and Westerns. N.G. is survived by his two children, nine grandchildren, and 22 great-grandchildren.
A Celebration of Life for family and friends will be held on August 6th in Westerville, Ohio, and a memorial service will be held on August 19th in Stanton, Nebraska.
In lieu of flowers, the family kindly requests that donations be made to Cancer Research through Pelotonia rider Tyler Bernard https://www.pelotonia.org/profile/TB0127. Donations can also be made to support "Benefit for Kevin Daniel" (Checks for the "Benefit for Kevin Daniel" can be sent to Frontier Bank, Attn: Josh Graham, 301 Main St, PO Box 610, Madison NE, 68648).