Amber Marie Brooks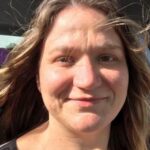 Amber Marie Brooks, age 42, finished her courageous battle with inflammatory breast cancer (IBC) on Tuesday, July 11, 2023. Amber was born on November 23, 1980, in Columbus, Ohio, where she resided until her passing. She became active in her IBS support group where she made many supportive friends who became like family to her. She persevered through many intensive cancer treatments with a smile on her face and a positive outlook on life. Her optimism was evident in the ways she encouraged others no matter what she was facing.
Amber loved the beach, especially Marco Island, Florida. She liked spending time with her friends, cuddling with her cats, and enjoyed her Burn Boot Camp fitness classes. She had a huge heart for people and cherished her time on a mission trips to Mexico and Indonesia to help serve those who were less fortunate than her. Amber's greatest joy in life, however, was her three precious children. She worked hard to make sure they were cared for and that they knew how much she loved them.
Although we are grieving the loss of Amber, we take comfort in the fact that she has entered her heavenly home where she has been healed. Amber is preceded in death by her father John Gilbert Sr. She is survived by her mother Jacqui Porter, her brothers Chris MacMillan and John Gilbert Jr., and many cousins, nieces and nephews. She also leaves behind her three children, Lucas Clayton, Aria Clementine, and Solomon John.
There will be a Celebration of Life service for Amber on Sunday, August 27, 2023 from 3pm-5pm at Grizzlybird Brewing Company in Westerville, Ohio.
"What we once enjoyed and deeply loved we can never lose, for all that we love deeply becomes a part of us." – Helen Keller
In lieu of flowers any donations made will go to support Amber's children. At this time, checks can be made payable to Sarah Fryman: 5188 Blessing Court Blessing CT. Galena, OH 43021.