Ruth D. Leonelli Infant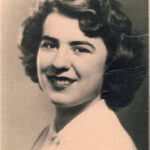 Ruth D. Leonelli Infante, 89, of Westerville, formerly of Austintown, passed away early Friday morning, August 25, 2023, at The Grand of Dublin.
She was born on April 1, 1934, in Youngstown. She graduated from East High School in 1952 and worked as a bus driver for Austintown Local Schools for 30 years before retiring in 1995. Ruth was a member of both St. Christine Church and St. Joseph Church and was very active with the senior citizens groups at both churches for many years.
She enjoyed playing golf and traveling with her husband to Las Vegas and other casinos throughout the years. Ruth was a 40-year breast cancer survivor.
She is survived by her two sons, Charles (Laura) Basich of Westerville and Neal (Debra) Infante of Austintown; her two grandchildren, Ben Infante of Dublin and Leah Infante Stauffer (Andrew) of Conway, AR; two great-grandchildren, Selah and Adin Stauffer also of Conway; a sister, Joanna Lukach of Hubbard and many nieces and nephews and extended family members and many friends.
Her husband of 43 years, Dominic Infante, whom she married August 11, 1962, passed away November 4, 2005.
Obituary for Ruth D. (Leonelli) Infante | WESTERVILLE – Ruth D. Leonelli Infante, 89 of Westerville, formerly of Austintown, passed away early Friday…