James Lester Mills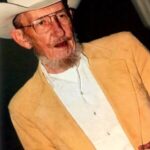 We had to say goodbye to Cowboy Jim on Aug. 17, 2023. Born March 5,1938 in Columbus, Ohio, the oldest of three children raised by Grandma Emma and Aunt Dory. He grew up in Westerville, Ohio, graduated, and joined the navy.
After serving in the navy, he settled in Westerville, Ohio, where he worked as a police officer and clerk of courts and raised his family. He retired and moved to Green Valley with his partner Nancy. There he became known as "Cowboy Jim" and was involved in various activities, including playing drums in a band and being an Arizona Ranger.
He was also an active member of Valley Presbyterian Church. He is survived by his daughter, grandson, and partner Nancy, among others.
A service will be held on Sept. 10 at Valley Presbyterian Church, and his ashes will be interred in Westerville, Ohio. Contributions to Valley Presbyterian Church are suggested in lieu of flowers.