Charles Ross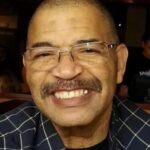 Charles Ross passed away peacefully on August 15, 2023.
He is survived by his wife Kathy Ross, son Myles Ross, siblings, brothers-in-law, sisters-in-law, nieces and nephews.
Charles graduated from Linden McKinley High School and worked as a journeyman at Technaglass and as a truck mechanic at Lane Aviation before being diagnosed with lumbar spinal stenosis.
He enjoyed fishing, music, movies, and taking walks with his dog Avery. Charles will be remembered for his love of hockey and being a hockey dad to Myles.
A celebration of Charles's life will be held on August 24, 2023, at the Moreland Funeral Home in Westerville, Ohio.