Samuel J. Halkias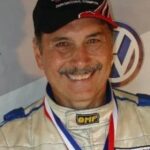 Samuel J. Halkias, a lifelong athlete, passed away on August 20, 2023, at the age of 73.
He was a football player and star student at Bowling Green State University.
He was a passionate racer for 50 years, winning numerous awards, including the 2009 National Championship in the SCCA E-Production class and back-to-back "Triumphs" at the Put-in-Bay Reunion race. Sam was also an instructor at the Mid-Ohio School and an active member of the Buckeye Triumph Club.
He had a successful career in the banking and title industries.
Sam is survived by his wife, daughters, grandchildren, great-grandchildren, brothers-in-law, sisters-in-law, nieces, nephews, and friends.
The calling hours and service will be held at Snyder Funeral Home – Devore Chapel in Sunbury, OH, with burial immediately following at Burnside Cemetery. In lieu of flowers, donations can be made to The Brain Aneurysm Foundation.