Anita Rae Walker-Ford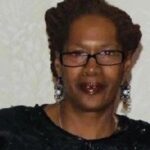 Anita Rae Walker-Ford was a beloved member of the Warren, Ohio community who passed away on August 1, 2023 at the age of 68 due to complications from pneumonia. She was surrounded by her loved ones during her final moments.Anita was born on February 22, 1955, in Warren, Ohio, to Clyde Walker and Erma Box Walker Pruitt. She was a devoted mother to her son, Aaron Walker, and a caring caregiver for her family. Prior to her retirement in 2019, she worked at Trumbull County Jobs and Family Services.Anita graduated from Warren G Harding High School in 1974 and was a proud member of the Restoration Christian Fellowship Church. She had a passion for solving crossword puzzles, traveling, reading, and spending time with her grandchildren.
Anita is survived by her son Aaron (Valisha) Walker of Westerville, Ohio; two brothers, Robert Pruitt of Washington DC and Clyde Walker of Dallas, TX; four sisters, Daphine Pruitt of Washington DC, Clydette Walker of Los Angeles CA, Fraydra Hartwell of Alabama, and Faye Thomas of Las Vegas, NV; and two grandchildren, Wisdom Walker and Serene Walker both of Westerville, OH.
She was preceded in death by her parents, stepfather Robert Pruitt, stepmother Helen Walker, three brothers Clyde Walker Jr., Dennis Blackwell, and Willis Walker, one sister Francesca Pruitt, husband Javance Ford and stepson Jason Henderson.
The funeral service for Anita Rae Walker-Ford will be held on Friday, August 11, 2023, at Restoration Christian Fellowship Church. Calling hours will be held from 11:00 a.m. – 12:00 p.m. Masks are suggested. Arrangements are being handled by the Sterling-McCullough Williams Funeral Home.
To honor Anita's memory, the family requests that flower arrangements or trees be planted in her name through their Sympathy Store.
[ Legacy.com ]