George L. Sundberg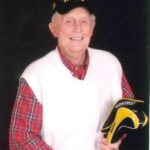 George L. Sundberg, 94, of Gahanna Ohio (formerly of Southern Pines and Pinehurst NC) passed away Friday, August 4th at Sunrise of Gahanna, in Ohio.George was born and raised in Cedar Rapids, Iowa.
He graduated from University of Iowa in 1955, after spending 4 years in the Air Force as a flight instructor with the rank of Captain. George was stationed at Goodfellow Air Base in San Angelo, TX and it was there that he met his wife Shirley who was in nursing school. She was from Iowa as well and from all accounts it was love at first sight. They were married for 61 years before she passed away.
George worked for Maytag as a Regional Manager and retired at age 55 so he could have more time to play golf and move to the mountains of North Carolina. Eventually they moved to Pinehurst and his dream of living on the golf course came to fruition! Pinehurst #6, fairway #12.
In addition to golf, George's passion was the Iowa Hawkeyes! Being a Hawkeye in Buckeye territory was a challenge, but all of you Buckeyes were welcoming and embraced his Big Ten team! George loved going to high school football, basketball and baseball games. He loved sports and cheering on high school athletes.
He is preceded in death by his parents and his wife Shirley. He is survived by his children Teri Trost (Joe Mercurio) of Westerville, OH and Scott Sundberg (Cindy) of Plano, TX; grandchildren Dusty, T.J., Ericca (Joe Solazzo), Brit (Liz), Matthew and Erin. Great grandchildren Penelope Trost and Jack Sundberg.
A celebration of life will be held at Schoedinger Margarum in Gahanna on Saturday, August 12th. Visitation from 11 to noon, service at noon. George's ashes will be spread in the places he loved! Pinehurst, Iowa City and at the family homestead in Cedar Rapids, Iowa.
A celebration of life will be held in the Pinehurst area at a future date. The family asks that instead of flowers please donate to Capitol City Hospice. They are angels!!!! capitolcityhospice.com or addus.com (they are the same) and scroll til you see donations.
Legacy.com